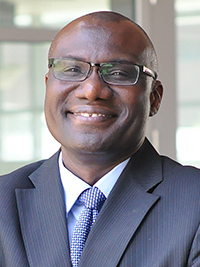 Professor Wisdom J. Tettey (UTSC)
Wisdom Tettey was appointed Vice-President and Principal of the University of Toronto Scarborough (UTSC) on July 1, 2018. Professor Tettey is a political scientist and a leading researcher on African diaspora, politics and media. Before joining the University of Toronto he served as Dean of the Irving K. Barber School of Arts and Sciences at the University of British Columbia's (UBC) Okanagan campus. Prior to this, he served four years as Dean of the Faculty of Creative and Critical Studies at UBC Okanagan. Professor Tettey is a fellow of the Ghana Academy of Arts and Sciences, was a Killam Resident Fellow at the University of Calgary and a Visiting Research Fellow at the Ghana Centre for Democratic Development.
He holds an BA (Hons) in Political Science and Russian and a Graduate Diploma in Communication Studies from the University of Ghana, an MA in Political Science from the University of British Columbia, and a PhD in Political Studies from Queen's University.