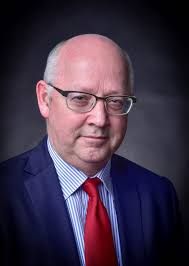 Professor William A. Gough
Constituency
Presidential Assessor
Professor Gough earned his Ph.D. in Atmospheric and Oceanic Sciences at McGill University, Montreal. Upon completion of his doctorate in 1991, he joined the Department of Physical and Environmental Sciences at the University of Toronto Scarborough (UTSC), after a brief postdoctoral fellowship at the Canadian Climate Centre. Professor Gough is a leading researcher of climate change in the Eastern Arctic, South-Western Ontario and Toronto; including studying climate change impact assessment, numerical ocean and climate modeling, and air quality. Recently the Canadian Association of Geographers recognized him for Excellence in Teaching, and for Service to Geography, in addition to receiving numerous research funding awards.
Dr. Gough began his term as the Vice-Principal Academic and Dean (UTSC) in July 2016, after serving as Interim Vice-Principal Academic and Dean, Vice-Dean Faculty, and Vice-Dean Graduate Education & Program Development (two terms.) In addition to his roles in the VP Dean's Office, Professor Gough served as Governor on U of T's Governing Council's Executive, and Elections', Committees, as well as chairing UTSC's Campus Council. He has served on a variety of university committees, including: Joint Programs with Centennial College, Concurrent Teachers Education Program, and the Tri-campus Geography Council, in addition to teaching numerous graduate and undergraduate classes at both the UTSC and St. George campuses.
As the Vice-Principal Academic & Dean, Dr. Gough oversees academic and administrative decisions within the portfolio. The VP Dean provides leadership in academic programming and services, as well as oversight of faculty appointments, promotions, and the development and review of academic departments and centres. The VP Dean consults with members of the campus on academic direction and policy, and ensures coordination and alignment of U of T Scarborough's academic activities within the broader context of the University of Toronto - working closely with the Provost, Executives, and Tri-Campus Units. The VP Dean also manages the academic budget, resolves all high level academic integrity and code issues; as well as taking the lead on crisis and issues management.