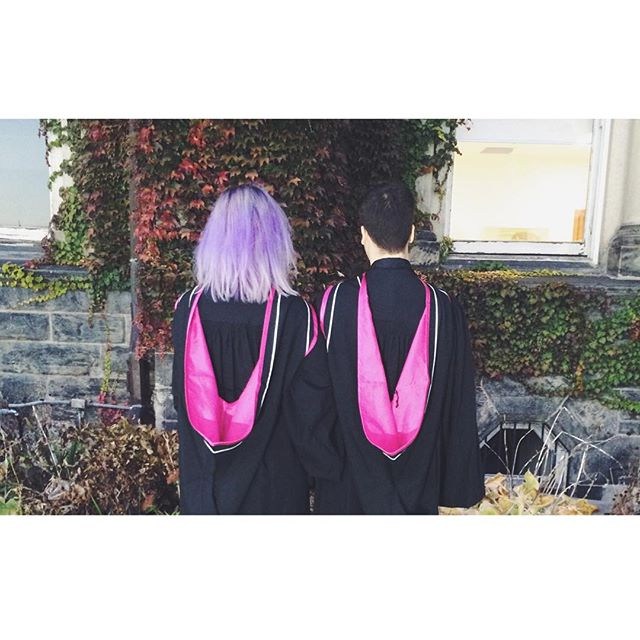 Academic Regalia

All candidates must wear academic gowns and hoods. The academic regalia of all University of Toronto degree programs includes a gown and a hood for your degree. Hoods are neither required, nor worn, for candidates from diploma and certificate courses.
You can arrange for your gown and hood rental between October 12 and October 22.. Please note that the gown rental service will close on October 22.
Attending the convocation ceremony is a simple two step process.
You will first need to arrange for Gown and Hood Rental (note that this link will only be activated once the site has opened on October 12). Please note that the gown rental ID number (8 digit Order Number found in the email that you receive from the Harcourts Regalia Order) that you are issued when you arrange for your gown and hood rental will be required to order your guest tickets.
RSVP and guest ticket orders are the second step in the process. An online RSVP and Guest Ticket Request form will be available through ACORN as of October 12.
During the Convocation period the University of Toronto arranges for an onsite gown rental service.
If you own, or are purchasing, U of T regalia, you will need to speak to a staff member at the Office of Convocation (416) 978-5940 before you RSVP online.
NOTE: You must arrive no later than 90 minutes before your ceremony to collect your regalia in Myhal, and proceed directly to the Marshalling Rooms where you will be assembled for the ceremony.
Please note that if you arrive late there is no guarantee that you will be able to join the ceremony.
---
Indigenous Graduands & Regalia
In this context, Indigenous peoples include the First Nations, Inuk (Inuit), and Métis peoples of Canada.
The University of Toronto normally requires all graduands to wear an academic gown and hood when crossing the stage at graduation.
However, if an Indigenous graduand wishes to wear their traditional Indigenous regalia in place of the academic gown, they are very welcome to do so.
In any event, the academic hood – the colour and style of which corresponds to the academic degree earned— must be worn. The hood is the recognition of the graduating student's academic success and a critical part of the academic tradition. It signifies admission into a community of scholars, and as such must be worn with one's traditional Indigenous regalia or academic regalia.