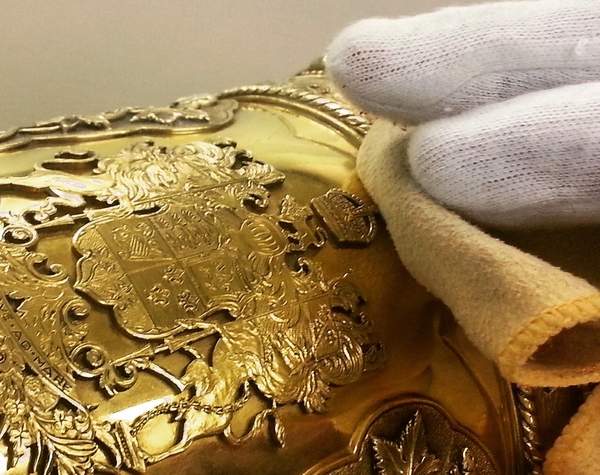 The University of Toronto Mace
The Mace was made in London, England by Hicklenton and Phillips, and hall-marked by the assay office of the ancient City of London Guild, the Worshipful Company of Goldsmiths. It was designed in the traditional "forme or patterne" of the famous Thomas Maundy maces, and has the arch or crown surmounted by the orb and cross. On the cushion below the crown are the arms of George IV who granted the University its original charter in 1827. The bowl is divided into four panels by chased straps, each strap decorated with the maple leaf and the trillium. The panels bear the following designs: the cypher always used by George IV; the arms of the University; the arms of the Province of Ontario; and the arms of Canada.

The head is surmounted by the traditional circlet of crosses and fleur-de-lys, from which spring the arches of the crown. On the two bosses and foot knop of the shaft the finely chased maple leaf and trillium decoration is repeated. The brackets connecting the bowl to the shaft incorporate small chased models of a beaver, together with the trillium motif. The shaft, which is plain, carries the following inscription. "This Mace with the Esquire Beadles' Staves was presented to the University of Toronto by William Eric Phillips, C.B.E., D.S.O., M.C., B.A.Sc., LL.D., Chairman of the Board of Governors, May 1951."

There is no metal or wooden inner shaft as in many of the early maces; the Mace is constructed entirely of silver and mercurial gilt, and weighs 120 ounces Troy; the decoration is enhanced with dull and bright burnishing.