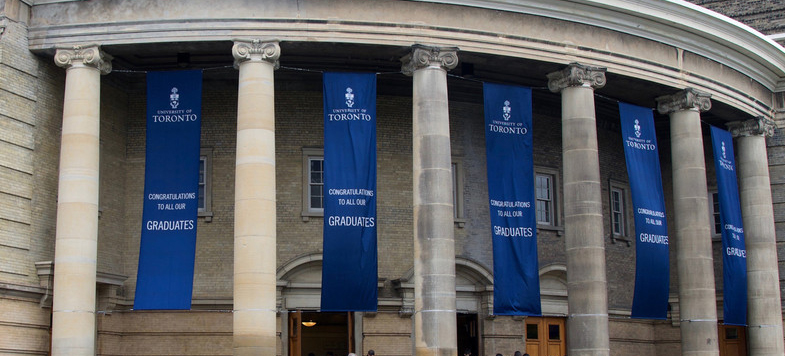 Congratulations graduates!
The University of Toronto will host a virtual ceremony to celebrate our graduates on:
Saturday, November 21, 2020 at 12:00 p.m. EST
The University of Toronto is pleased to announce the date of our Fall 2020 virtual convocation ceremony. We understand the importance of celebrating your remarkable achievements and hard work in reaching this significant milestone, even at a time when our traditional convocation ceremonies are not possible because of the COVID-19 pandemic.
In place of in-person ceremonies, the University is planning to host a virtual Convocation ceremony in which the Chancellor will officially confer degrees on members of the November 2020 graduating class. After the virtual ceremony, diplomas will be couriered (for free) to our graduates over the course of the following weeks. Please allow some flexibility with this schedule, particularly under these difficult circumstances.
Once the public health situation stabilizes and it is possible to gather safely again, individual academic divisions will be able to plan in-person graduation celebrations to honour our graduates, and their families and friends.
TO DO BEFORE OCTOBER 28, 2020:
If you are planning to graduate this November, please update ACORN with your PERMANENT address. This will be the shipping address for your diploma. This is crucially important. Replacing a lost diploma is a time-consuming and difficult process.
To ensure you include all the necessary information for a courier to deliver your diploma, please refer to our Address Completion Guide.
GOWN AND HOOD RENTALS
Grads wishing to rent regalia for at-home celebrations or photographs can do so with Gaspard. Visit the Gaspard website for more information on rental rates and shipping costs.
Please note that these rentals are optional and not a requirement for the virtual ceremony.
THE VIRTUAL CEREMONY
Virtual Convocation will take place Saturday, November 21 at 12:00 p.m. EST You can watch the ceremony at www.utoronto.ca/convocation.
We hope that you, along with your family and friends, will gather online to celebrate the Class of 2020 – no matter where you might be joining from. The ceremony video will contain many elements of a traditional convocation to make your day memorable, including the Chancellor, President, Chair of Governing Council, a Convocation Speaker and special congratulations messages.
The ceremony is pre-recorded and is not interactive. If for any reason you're unable to watch the ceremony on November 21, the link will remain available for several weeks afterwards.
DIPLOMAS:
When your diploma is ready for shipping, the tracking number will be sent to your UTmail email account directly from the courier company. Diplomas will be couriered in the weeks following the virtual ceremony.

FUTURE GRADUATION CEREMONIES HOSTED BY THE ACADEMIC DIVISIONS:
Finally, faculties and divisions will be able to host in-person graduation ceremonies once it is safe to do so, likely in 2021. Your Principal or Dean will be in touch with you directly in the coming months with information pertaining to these celebrations.
​
Questions? Please refer to our Frequently Asked Questions for 2020.
Preparing to graduate
Faculty of Arts and Science

Students in the Faculty of Arts and Science who expect to graduate at the end of a given session, must indicate their intent to graduate through Student Web Services (ACORN/ROSI). Prospective graduands can find Instructions for Graduating Students on the Faculty of Arts and Science website.
University of Toronto Mississauga

Students at the University of Toronto Mississauga can find Graduation and Convocation information on the University of Toronto Mississauga website.
University of Toronto Scarborough

Students at the University of Toronto Scarborough can find Graduation information on the University of Toronto Scarborough website.
School of Graduate Studies

Please visit the School of Graduate Studies website for details.
Professional Programs

Please contact the Registrar's Office in your program for details.
Confirming Graduation Status
Students should verify their eligibility to graduate with their Registrar.

Important: make sure to update your contact information online using ACORN/ROSI. The way your name appears in ACORN/ROSI, is the way it will appear on your degree.
Name change
Your name as it appears in Student Web Services (ACORN/ROSI) is the name that will appear on your diploma. To view your name on ACORN/ROSI, just visit the ACORN/ROSI web-site and select the "GRADUATION" option.

Once you have seen your name as it will appear on your diploma:

Is your name missing accents or you want to remove a period (.) after an initial? If so, please download and complete the Name on Diploma (June Form) or the Name on Diploma (November Form) and return the form to the address provided.

Please follow the instructions on the form. Please note that this form is only for accents.

The DEADLINE to return the form:
For the June 2020 Convocation: March 19, 2021.
For the November 2020 Convocation: September 15, 2021.

Due to publication deadlines, forms received after this deadline cannot be processed.

For any other changes to your name, please visit your College or Faculty Registrar's Office to complete the necessary forms and provide proper documentation to support the desired change.

If you have any questions, please contact us at (416) 978-5940 or email convocation.office@utoronto.ca (please be sure to include your student number if emailing).
Class of 2019
If you did not attend Convocation in 2019, although our office is closed, you can arrange to have your diploma delivered for a fee.
Please visit our webcast page to see an archived webcast of your convocation ceremony.